Top Window Treatments For Double Hung Windows In Sacramento
In the event Sacramento has enjoyable outside conditions, it's wonderful to find some fresh air and sunlight coming through the open top sash in your double-hung windows. But keep in mind, the vast majority of window coverings obstruct the upper pane when lowered.
If you're looking for a private interior without covering up your upper sashes, use plantation shutters or unique top-down and bottom-up shades. These window treatments for double-hung windows in Sacramento offer optimal command of the light, airflow and privacy of your space.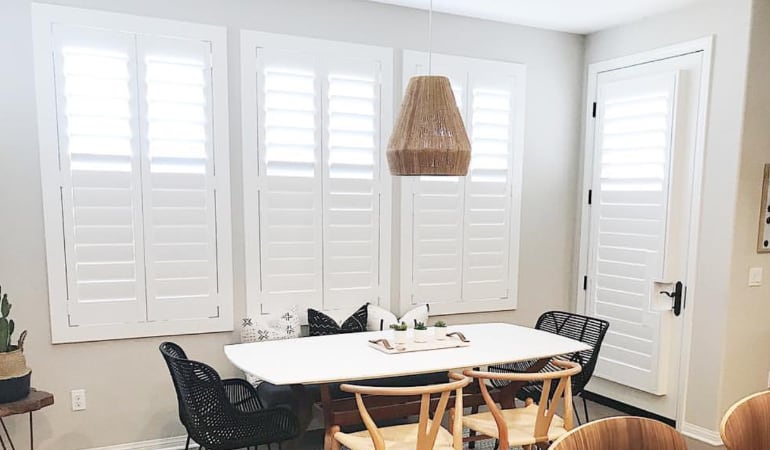 You're In Charge Of Airflow And Light With Plantation Shutters
Comparable to double-hung windows, you have the option of opening plantation shutters in two distinct manners: swing open the hinged panels to uncover your window for full light or keep the panels closed and move the louvers with the center tilt bar for the desired levels of natural light and privacy. Either way, you bring in outside air by opening the top or bottom sash on a standard double-hung window. If your goal is ideal air circulation, swing the shutters open and adjust the top and bottom sashes so cool air flows in at the lower section, and hotter air exits over the upper sash.
Interior shutters offer functionality for different window types including double-hung tilt windows. Swing your shutters at the hinge and utilize the tilt option for plenty of airflow. But you can talk to your window installer about mounting your treatments with an outside mount so you can crack the panes open a little bit while the panels are closed. And of course, you can always use the louvers to change your light and privacy levels.
You also have the choice to use a split rail in each shutter panel. This allows you to open one section of the panel to let in the light while keeping the other section shut to protect your privacy.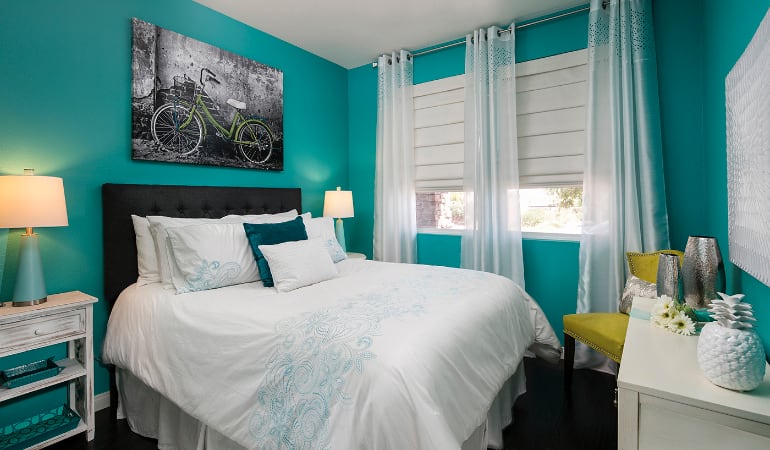 Enjoy Your Open Window and Privacy With Top-down/Bottom-up Roman Shades
Top-down/bottom-up Roman shades can be moved down at the top or up from the bottom, much like your double-hung windows. For this reason, they are an excellent choice for these types of windows when your goal is exceptional airflow and light control without giving nosy neighbors a view into your home.
Open your windows at the top and drop down your window shade to allow a gentle breeze and natural light while keeping the lower part of the window covered. Or crack open both the window and shade at the top and bottom for air circulation while leaving most of the window covered.
Knowing that you will keep your top-down/bottom-up window treatments in full-cover mode much of the time, it's smart to choose something as appealing as Roman shades. The distinctive pleats and array of material, color, and pattern choices make Roman shades an elegant accessory for your Sacramento home that your family will love.
Reduce Energy Costs With Top-down/Bottom-up Cellular Shades
Double-hung windows offer excellent ventilation when it's nice outside, but that second sash can cause more drafting than other window styles. One fix for this potential problem is top-down/bottom-up cellular shades. Also known as honeycomb shades, this treatment features cells within the fabric that trap outside air flowing around your sashes.
This unique feature also helps prevent inside air from leaking out. Considering this benefit, honeycomb shades help keep your interior temperature stable and your HVAC expenses down.
The impressive energy-saving ability makes honeycomb shades suitable Sacramento window treatments on double-hung windows all year long. Pull them open in the upper or lower sections along with your window sashes for a gentle breeze when the weather is nice and cover your windows back up to safeguard your Sacramento home from extreme temperatures when the weather changes.
Talk To Sunburst Shutters Sacramento About Window Treatments For Double-hung Windows In Sacramento
Get the most out of your double-hung windows with exceptional window coverings from the leaders at Sunburst Shutters Sacramento. Our knowledgeable team will help you explore our impressive line of products and find the perfect treatments for your Sacramento home. Contact us at 916-250-0758 or fill out the form below to request your complimentary on-site appointment.