The Best Living Room Window Treatments In Sacramento
Some Sacramento families utilize their living rooms for entertaining guests, others for casual lounging. No matter your lifestyle preferences, well-crafted window products will make your space more comfortable and inviting. Distinctive coverings like plantation shutters and shades add style while helping eliminate drafts and glare.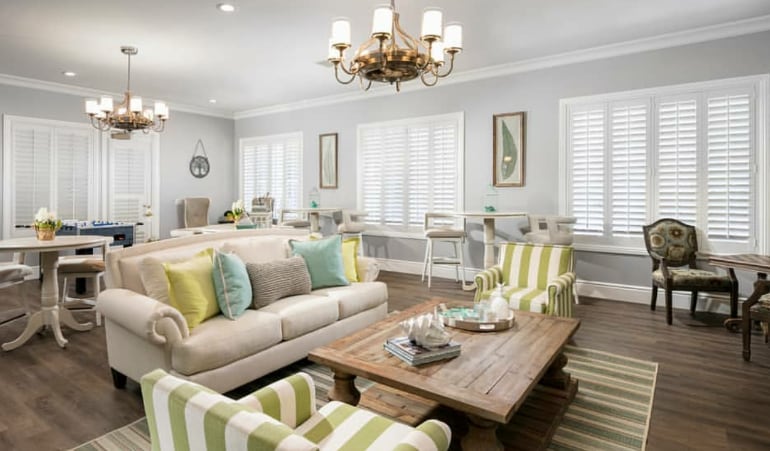 Plantation Shutters Keep Your Space Comfortable
For a large percentage of Sacramento residents, the living room functions as a multifaceted space where they entertain guests, watch TV, play, and relax. Popular plantation shutters can help everyone enjoy your living room. Polywood® shutters and real wood shutters are a rugged, low-maintenance choice for families with small children and dogs but engaging enough to dazzle your friends and visitors. Their wide louvers create a design focal point and require only a simple wipe with a cloth to eliminate dirt and dust before you entertain guests.
The easy-to-move louvers also let you control natural light in your living room. If you want something less than all-out light, shut the shutters and adjust the louvers to direct glare away from your guests or off the TV screen. Or shut them completely during the hottest part of the day to keep your space comfortable.
Some houses have large picture windows or multiple windows in the living room. These let in the hot sun and chilly drafts. While picturesque, they are known for letting in excessive heat and cold drafts. They add beauty but also allow heat and drafts that increase utility expenses and make you uncomfortable. If you want energy-efficient living room window treatments in Sacramento, think about the benefits of interior shutters. Polywood® shutters minimize the impact of drafts and the sun's heat better than other options to keep your living room comfortable for your family and guests.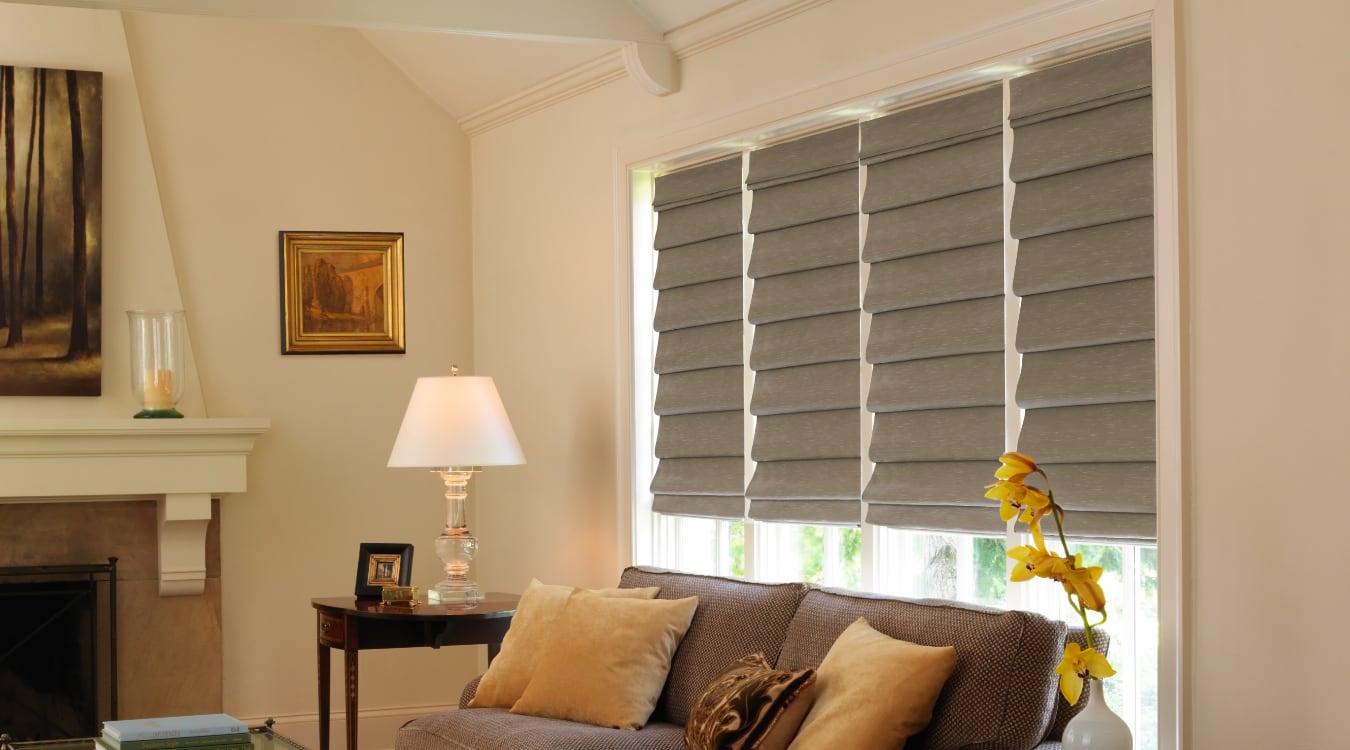 Roman Shades Deliver Function And Appeal
When integrating with a formal living room, you may want more colorful window treatments not found in other rooms. But you don't have to compromise ease of use for aesthetic appeal. You will receive a truly remarkable choice with attractive Roman shades.
When opening Roman shades, the the paneling slides up but without requiring tie backs like traditional curtains. Instead, Roman shades open and close with a lifting mechanism that can be corded or cordless. You can even install motorized shades so you don't have to interrupt a conversation to lower the shades can raise or lower at the touch of a button. You don't need to break away from a guest to lower a shade. You can find Roman shades with a multitude of fabric, color, and hardware options to perfectly complement the existing decor of your living room.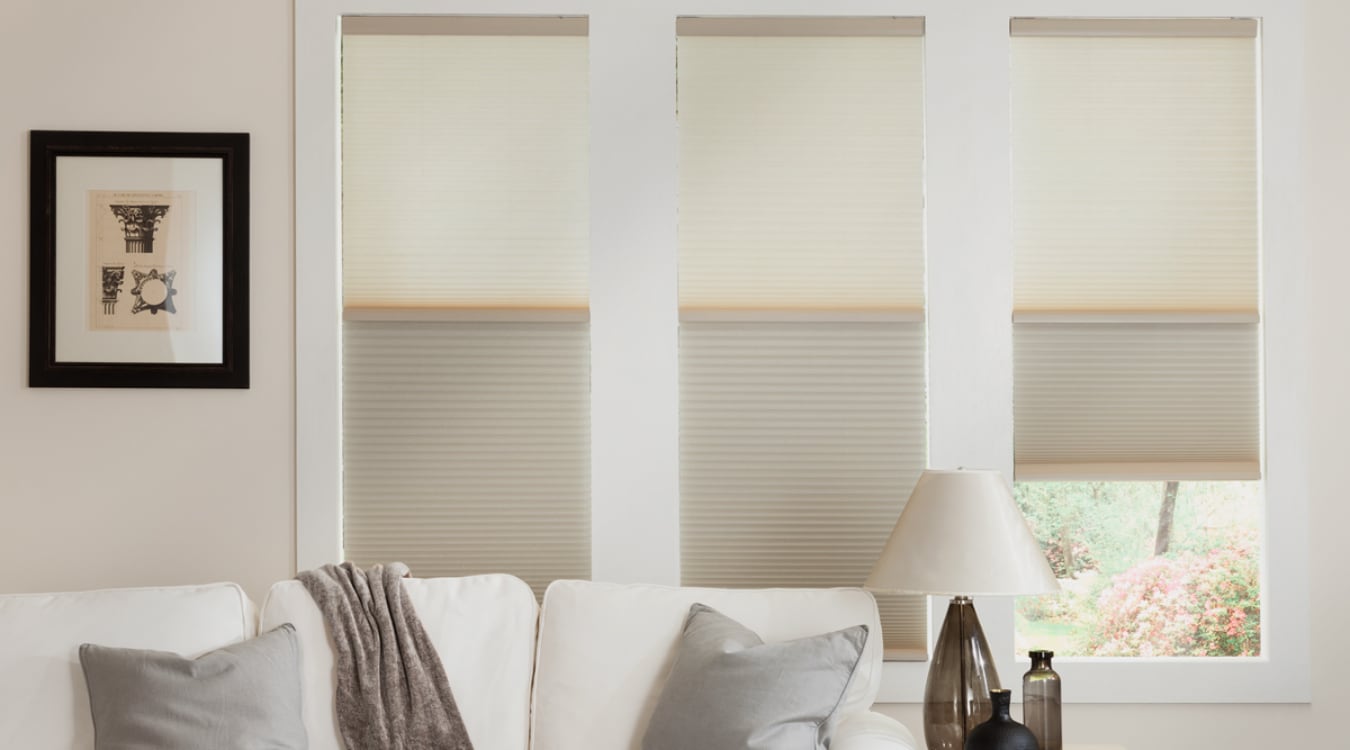 Cellular Shades Improve Energy Efficiency
Another solid choice for energy-efficient living room window treatments in Sacramento are cellular shades. The unique design will absorb outside air to stop drafts in your home. This important feature will help you stay warm when you're curled up for a cozy winter's day on your comfy chair and keep you cool throughout the warmer seasons when you're entertaining a full house.
If you pick cellular shades, don't be worried about appearance. They are available in numerous colors, textures, and pleat sizes to blend with your design aesthetic. You also get to choose from blackout or transparent materials and all levels in between to achieve the desired amount of sun and seclusion. For the most versatility, check out shades that let you open them from the top for sunlight while remaining closed at the bottom to keep your area private.
Time to Upgrade With The Best Living Room Window Treatments In Sacramento? Talk To The Experts At Sunburst Shutters Sacramento
Elevate the appearance and efficiency of your Sacramento living room with quality window treatments from Sunburst Shutters Sacramento. Our knowledgeable team will discuss your needs and offer a custom plan for your living room. To get started with a complimentary, in-home meeting call us at 916-250-0758 or complete the form on this page.