So Long Old Fashioned Window Treatments For Entry Door Sidelights In Sacramento, CA!
Your entry door is a key design element of your Sacramento home - and one that guests take note of when they walk up to ring the bell. Glass sidelights contribute to the beauty of the door. At the same time, they lessen your home's privacy. This is where window treatments are a perfect choice for the entry door's sidelights.
Many Sacramento residents installed classic window treatments for sidelights, such as blinds and shades. But there's a more contemporary alternative: entry door sidelight shutters.
Shades & Blinds For Entry Door Sidelights
Blinds, shades, and other old fashioned window treatments might be the first window treatments you think of when it comes to sidelights. You can find them in hardware stores in sizes that approximately fit your entry door sidelights. And youhave a grasp on how to mount them and operate them.
But blinds and shades for sidelights have some issues you should consider before purchasing them. First, they are known to sway whenever the door is open or shut, when the wind shakes the strips against the glass. This creates unwanted noise. One way to fix that is to tie them down at the bottom. But this might change the appearance and have little effect on reducing the noise. Second, these window treatments offer privacy but are poor at temperature control. The frail material does little to block the hot or cold outdoor conditions. And third, shades and blinds don't have the customized style that wows a guest as they enter through the entry door. Plantation shutters do.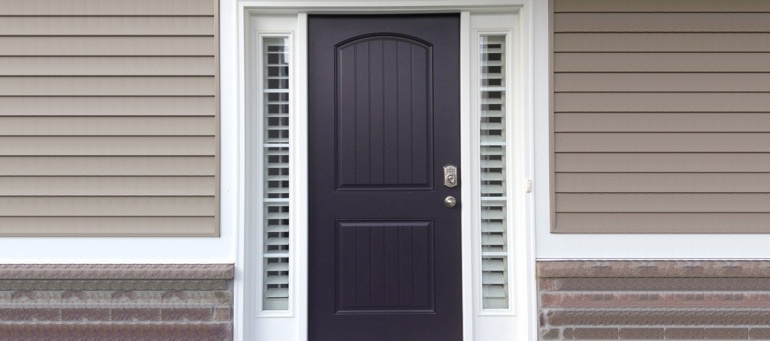 Plantation shutters
are the contemporary window covering you've been shopping for in Sacramento. Constructed from hardwood or wood substitute, shutters for entry door sidelights are fixed to the door frame while allowing the louvers to move. Now opening and closing the entry door does not result in any noise.
Closed entirely, plantation shutters offer
complete privacy and control over temperature
. Easily tilt the louvers using a tilt rod to see more of the sunshine and the scenery. And
Polywood®
plantation shutters louvers insulate against 30° of temperature and lessen airflow by up to 45%.
The charm of plantation shutters for sidelights is more than energy savings. With a collection of frame styles, wood stains, louver sizes, and a paint matching program, you can finally the modern touch you want. Our professionals aid you in selecting custom window shutters for your entry sidelights. And we'll set them up to fit your sidelights perfectly.
Say Hi To Entry Door Sidelight Shutters For Your Sacramento Home
Ready to say goodbye to traditional window treatments and say hi to shutters for entry door sidelights? And if you are interested in the same style of shutters for your
French doors
or
patio door
, we offer those also. Call
916-250-0758
or fill out the form below to schedule your free in-home design consultation today!