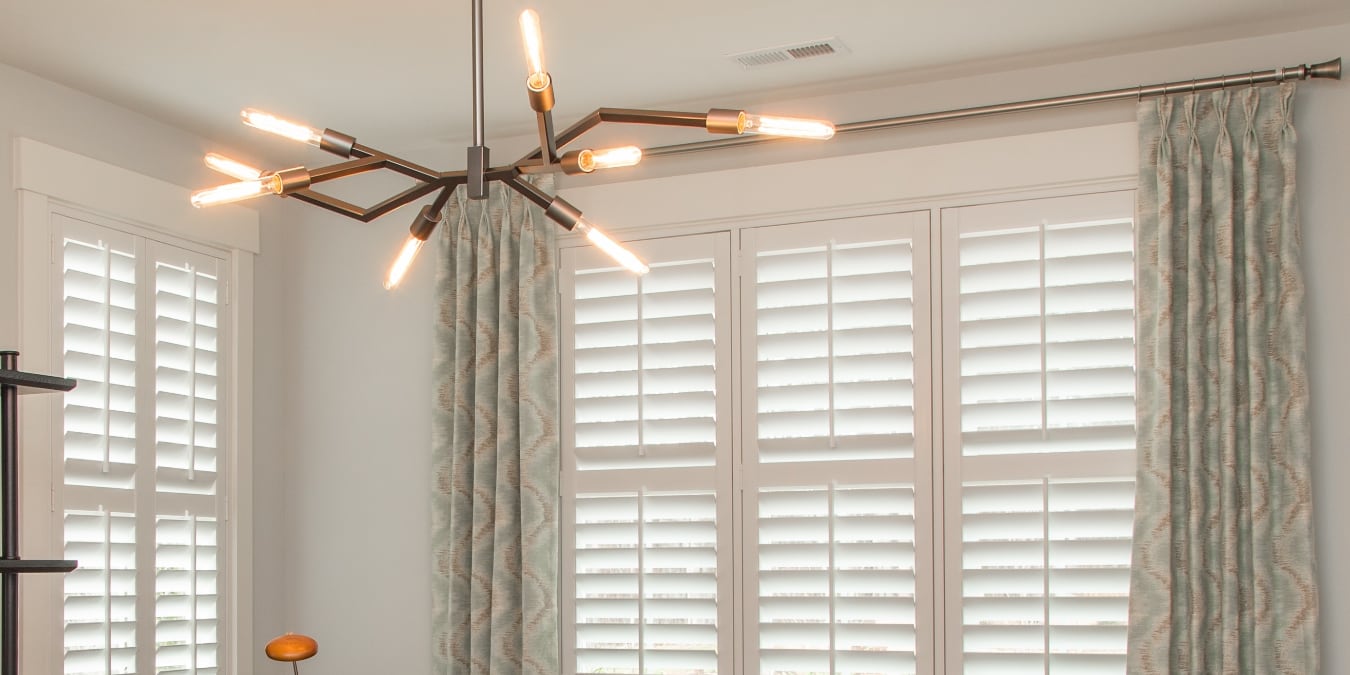 Home Office Window Treatments In Sacramento That Work For You
If remote work is your new way of life during these unprecedented times, you likely need some guidance in upgrading your Sacramento home office. Start with your window treatments. Need to see a quick comparison of the different home office window treatments?
Here is a link to our window treatments chart, for window treatments perfect for your home office.
Options like plantation shutters and motorized window shades are sensible home office window treatments for Sacramento professionals who would like to have a distraction-free and comfortable work setting without giving up your home's personal charm. These preferred products can even help you look more professional during video calls! Read how you can employ these window treatments to your advantage.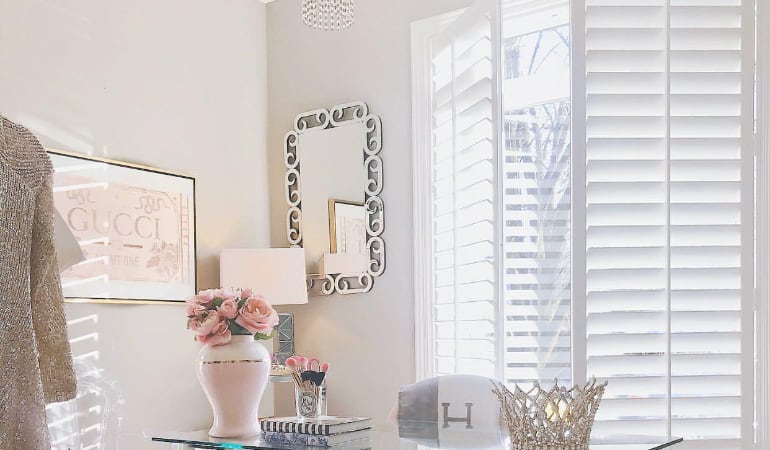 Plantation Shutters: A Leading Option In Home Office Window Treatments In Sacramento
Working remotely has its own set of challenges, so select home office window treatments in Sacramento that can optimize your space. Plantation shutters' unique design makes them a popular choice when you'd like to manage your area's temperature and light levels.
A benefit of working remotely is that you have total control over the temperature. However, you don't want to bump up your utility costs by running the HVAC every hour of the day. Polywood shutters with insulating qualities will make a difference. During warmer months, keep your shutters closed to cool your home office and eliminate the glare on your display screens. During colder months, that same insulation keeps drafts at bay.
Looking to save on electricity or hate sitting in a dim office? Adjust the louvers on your plantation shutters for filtered light that you can direct away from your computer display and into other parts of your room. Shut them again to limit distractions like delivery trucks or the neighbor's dog. Keep them shut to maintain privacy at night if you need to work late.
If you're looking for some flair in your home office, the clean lines of Polywood shutters create a stylish architectural detail that gives a boost to even the plainest office window. They can be found in a multitude of adaptable colors as well. Whether you pick crisp white plantation shutters or a warm and welcoming hardwood shutter, your upgraded home office window treatments will have you happy to be working remotely!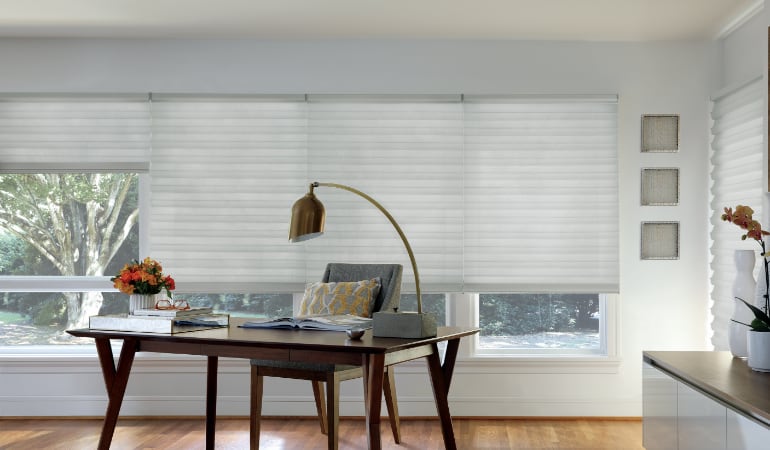 Motorized Window Shades Offer Style And Function for Sacramento Business People
Similar to plantation shutters, many styles of shades deliver coverage and insulation for your work space. Blackout roller shades eliminate sun glare. Eco-friendly cellular shades protect you from chilly drafts and hold in warm air. Transitional shades give you the option of filtered natural light or no light at all.
Window shades can be found in a multitude of colors, textures, and materials to fit your individual preferences and fulfill your idea of an ideal home office. You may enjoy something stylish like Roman shades that provide an elegant backdrop during video conferences or something simple like roller shades to avoid distractions.
If you've decided on the style of window shade you wish to install, get the motorized version to upgrade your space even more. Motorized window treatments function with a remote controller instead of by hand. This offers more flexibility for managing the light in your home office.
If the sunlight shifts and a glare interrupts your attention, you are able to shut your shades with the press of a button without moving from your chair. If sunlight is impacting your appearance on a conference call, or you realize your office resembles a dungeon online, you can let down or raise up your motorized shades right from your workstation without disrupting meetings. Your co-workers and clients will be impressed with your professional workspace when you upgrade your home office window treatments in Sacramento.
Are You Still Contemplating Which Window Treatments Is The Best For Your Home Workspace? We've Included This Chart To Help You When Comparing All Of Your Options.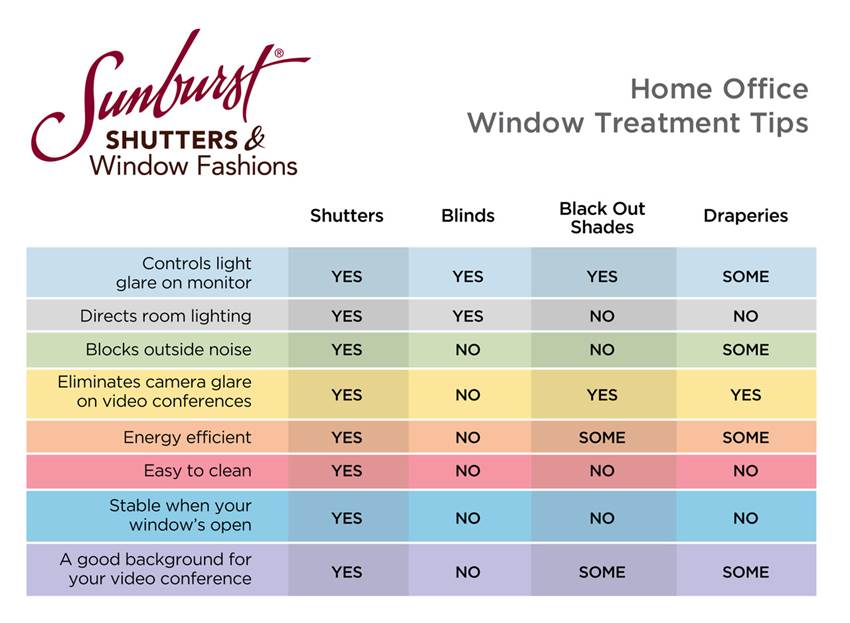 Elevate Your Sacramento Home Office with Window Treatments From Sunburst Shutters
You'll work better when your window treatments enhance your comfort and your privacy. Turn to the window treatment professionals at Sunburst to find the right product for your home office. For a free in-home consultation, contact us at 916-250-0758 or submit our simple form.