Five Ways To Create The Perfect Media Room In Sacramento
The latest home theater tech makes it easier than ever before to immerse your senses in gaming, movies, and your favorite TV shows while relaxing in your own home. This is the rationale behind why families in Sacramento continue to create home media rooms. You might be wondering: What is required to produce an incredible home media room? From the right window treatments to soundproofing, explore these five ideas for creating a media room in Sacramento that the whole family will love.
#1 Take Charge Of Exterior Light With Plantation Shutters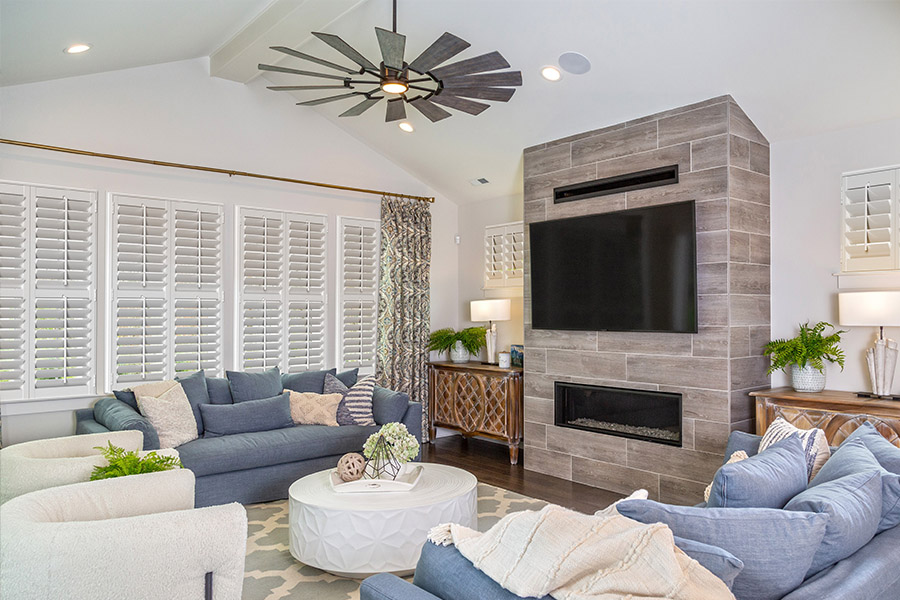 Not much can mess up your movie night like the sun's rays on the screen. Dimmable lights are beneficial, but what do you do for sunlight? Use
louvered shutters for window treatments
in your media room in Sacramento for optimal control of sunlight. Louvered shutters have a solid outer frame that encompasses your window's frame to keep out exterior light. These sturdy installations also have panels on hinges with moveable slats that shut tightly to give you near-total darkening. You might even tilt the louvers to a different angle to move exterior light off televisions or your eyes without having your room appear to be a dark cave.
In the event you select Polywood® shutters, you'll enjoy a higher degree of energy conservation as well. These faux-wood shutters block UV rays and airflow to allow your media room to maintain a pleasant temp. They may prohibit around 30 degrees of heat transference, lowering your utility costs.
#2 Enhance Your Media Room's Sound Quality With Some Doable Renovations
After you fix the illumination in your Sacramento media room, tackle the acoustic environment. Drywall is adequate for media rooms walls, but your basement's concrete deteriorates the quality of sound. The easiest method to prevent reverberation in your basement media room is by inserting acoustic paneling. In the event you have to soundproof your media room, select easy-to-install sound absorption or sound barrier products. You can combine those with window treatments, like shutters, to control noise from outside.
#3 Invest In The Proper Electronics
The proper electronics will give you superior acoustics too. Begin with a surround sound system. A great number of people prefer Wi-Fi connected components because there's no need to deal with running wires.
Don't forget about getting a fantastic flat screen. LCD and LED screens are brighter, but 4k units typically have superior contrast and extremely wide viewing angles. Or get a projector and screen for that movie theater experience in your media room. Whichever television you choose, install it further up your wall for improved viewing angles.
#4 Choose Comfy Seating Options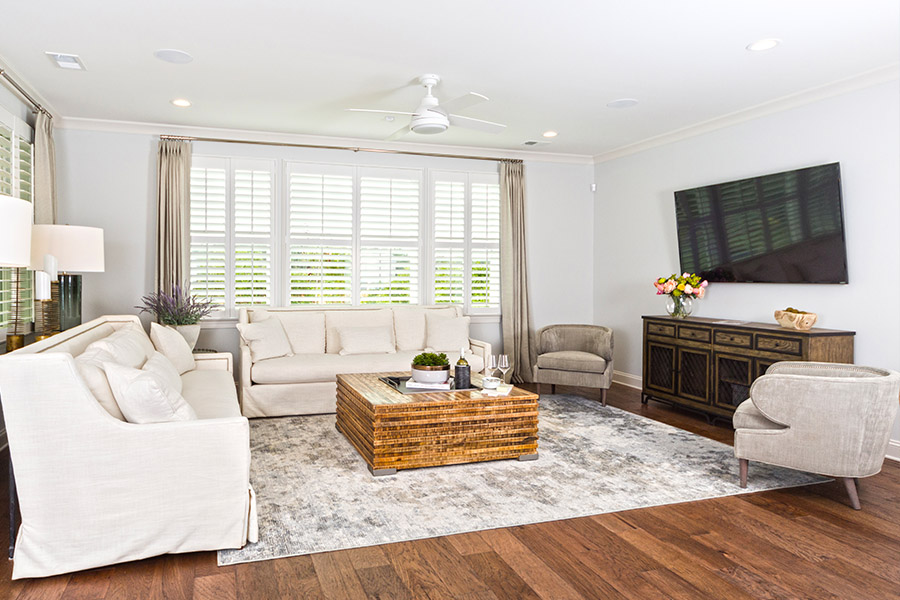 You won't be able to be entertained by your favorite show without a cozy place to sit. If your goal is a complete home theater, look for theater seating with reclining functionality and incorporated drink holders. If you plan on gaming, invest in the right number of well-designed gaming chairs. A spacious sectional is a smart choice as well. And don't forget several plush throw blankets and maybe a pillow or two to get ready for those binge watching nights.
#5 Redecorate With The Theme of Your Choice
Customize in any way you would like when creating a media room in Sacramento. Do you love Old Hollywood? Is your goal to feel like you're inside a genuine theater? Oversized movie posters, an antique style popcorn trolley, and bold colors will underscore the purpose of your media room.
If you want a more subtle feel, focus on a favorite color palette. Warmer hues with wooden finishes and matching Ovation® shutters will have your media room feeling cozy. Or make it feel light and welcoming with softer, neutral shades and Polywood shutters.
Talk To Sunburst About Window Treatments For Your Media Room In Sacramento
The specialists at Sunburst Shutters Sacramento are here to help you find window treatments you love for your media room. At your free on-location consultation, we're happy to show you how different solutions look in your room before you make your ultimate choice. Request yours today by dialing 916-250-0758 or by submitting the form on this page.