8 Ideas for Using Reclaimed Wood in Your Sacramento Home
This might come as a revelation to you, but reclaimed wood has really caught the fancy of Sacramento people, who apparently love its natural look and what it does for their home décor. It's a fashionable way of repurposing weathered wood and unleashing your own distinctive style. Reclaimed wood products capture the eye whether on a wall, your cabinets, or even your windows. Want to know the best way to employ reclaimed wood? We've come up with 8 great ideas for you – every one of them applied to gorgeous effect in Sacramento homes.
1.Windows of Reclaimed Wood
For the first time ever, you can easily own reclaimed wood as a window treatment. Sunburst Shutters now offers a plantation shutter crafted from the finest reclaimed wood. Actually, Sunburst is the lone company offering reclaimed wood shutters in the Sacramento area. We found the reclaimed wood you want and used it to create a louvered shutter that's just as appealing for its functionality as it is for its beauty.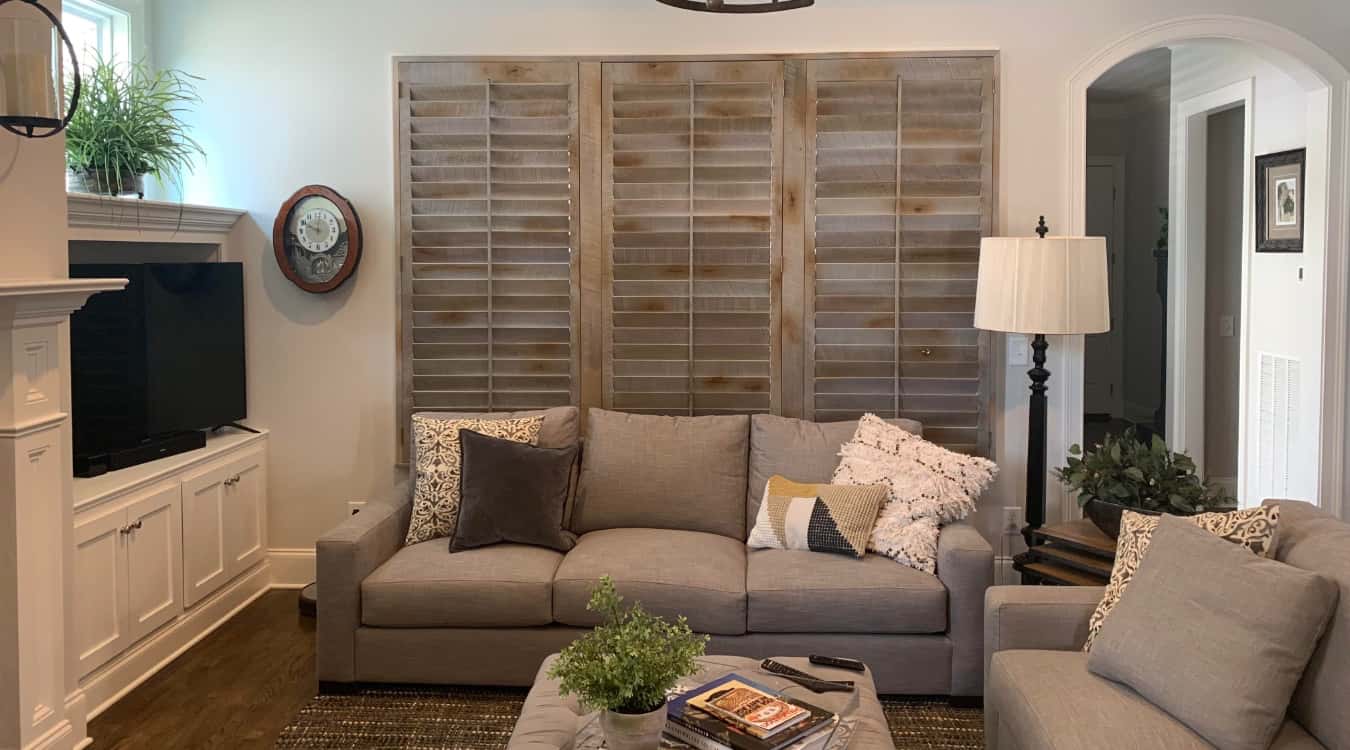 Reclaimed wood can provide a truly exceptional window treatment. It helps, of course, when your reclaimed wood shutters are artistic accomplishments in their own right. And Sunburst takes care that they are. You'll discover there's just as much to like about their operation as there is to like about their look. Tilt the louvers open to let in more light. And tilt them closed to better reveal the weathered look of reclaimed wood on your window. Don't simply take our word for it, though. There's plenty more to find out about reclaimed wood for windows in Sacramento. Dig deeper!
2. Walls of Reclaimed Wood
If it's the casual, rustic look of the outdoors you want in your home, reclaimed wood delivers it in the way only natural resources can. Reclaimed wood paneling accentuates your wall and adds a casually convivial ambiance to the room. Whether you have a bookcase, fireplace, artwork, or TV you want to show off, a reclaimed wood wall will look stunning behind it and give you precisely the effect you you want.
3. Redo Your Floors in Reclaimed Wood
Looking to redo a floor in your house? All kinds of wood flooring can add warmth and coziness to a room, but flooring of reclaimed wood has an unparalleled beauty so much dependent on the time – generally decades – the wood has spent in its natural outdoor environment. Regardless of whether you love the outdoors or simply love the appearance of weathered wood, you'll fall head over heels in love with what a reclaimed wood floor can do to revitalize your home.
4. Reclaimed Wood for Cabinets
Considering the greater availability of reclaimed wood, now is the ideal time to spruce up your kitchen cabinets. It's the natural way to make your kitchen the warm, inviting haven you've always thought it could be. Every panel of reclaimed wood evokes a rich tale – of decades hidden away in an old building, for instance, or in the crumbling structure of a barn or fence. And a trace of that narrative will endure in your reclaimed wood cabinets, crossing your mind every time you're around them.
5. Reclaimed Wood for Tables
Tabletops partially or completely made of reclaimed wood can add a ultra-current, assuredly unique ambiance to your dining room or home office. Meld the subtle, natural hues of reclaimed wood with your décor scheme for a harmonious look that fulfills your expectations – at the same time it elicits praise from guests!
6. Your Bookcases Cry Out for Reclaimed Wood
Apart from the value we assign them otherwise, books make excellent decorative pieces. Arrange a book or selection of books on a coffee table or end table, on a bookshelf, or in a big bookcase, and they'll inevitably make a good impression. Their pleasant variety is both highlighted and harmonized in bookcases of genuine wood, too. And bookcases of reclaimed wood, given their natural colors, knots, holes, scratches, and other markings, prove to be a decidedly distinctive, one-of-a-kind showcase.
7. Picture Frames of Reclaimed Wood
The mellow, natural look of reclaimed wood is perfect for picture frames. It's just what's needed to show off your favorite artwork and personal photos in a most impressive manner. What's equally worthy of your attention is that frames of reclaimed wood can be put together in a multitude of styles, thus they'll harmonize with nearly any interior look you've created.
8. Use Reclaimed Wood for Your Headboard
Not much can refresh the appearance of a bedroom like a smartly designed and constructed headboard. Nowadays, when renovating, people are just as predisposed to fix a headboard to the wall behind their bed as they are to fasten one directly to the bed itself. However you prefer it, a headboard constructed of reclaimed wood planking can be quite gorgeous. It's natural hues and weathered features are easily adapted to a wide range of styles, from antique to modern. With reclaimed wood, your design sense can absolutely soar, letting you create the headboard of your dreams!
Get Reclaimed Wood Inspiration
We hope we've inspired you with these 8 ideas for making use of reclaimed wood. But we have a great many more ideas – ideas that marvelously underscore the beauty of the reclaimed wood shutters we alone offer in Sacramento. Our people will be more than happy to show you samples of our shutters, answer your questions, and provide you with a range of other superb design ideas. Give us a call at 916-250-0758 to schedule your free in-home design consultation at your convenience!